Egypt invites Italian firms to invest
BUSINESS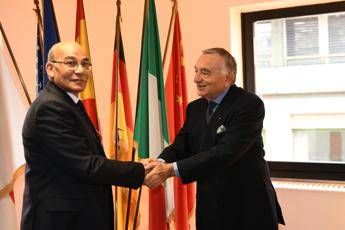 Pubblicato il: 14/02/2018 19:17
Egypt is ready to support Italian businesses that want to invest in the populous country, agriculture minister Abdul Moneim al-Banna said on Wednesday during a visit to Adnkronos news agency in Rome.
"I invite Italian business people to invest in Egypt, a big market with a population of 100 million inhabitants," al-Banna told Adnkronos in an interview.
"There are new laws that help and encourage investment," al-Banna said during a visit to the Adnkronos-GMC group's headquarters.
"For this reason, any investor who comes to Egypt will find support to start up ventures in our country."
Egypt's vast Zohr gas field was discovered by Italian energy giant Eni and inaugurated in record time on 31 January by Egypt's president Abdel Fattah al-Sisi, al-Banna noted.
"This is a very important project for Egypt's energy needs," he said.
RIPRODUZIONE RISERVATA © Copyright Adnkronos.