Berlusconi rescues five spring lambs
CULTURE-AND-MEDIA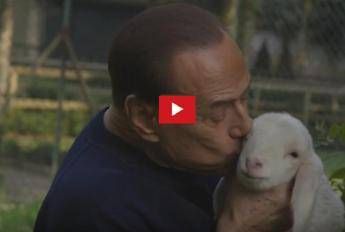 Pubblicato il: 10/04/2017 14:43
Former Italian premier Silvio Berlusconi has saved five spring lambs from the slaughterhouse this Easter and they are now frollicking at his villa in Arcore, near Milan, according to a video posted to Youtube.
The video shows the 80-year-old billionaire media mogul in the villa's grounds bottle-feeding and repeatedly kissing the long-eared lambs as several sheep graze the grass nearby and nuzzle up to Berlusconi.
Berlusconi's 31-year-old girlfriend Francesca Pasquale and centre-right lawmaker Michela Vittoria Brambilla also appear in the video captioned: "Follow his example - Easter celebrates life. Don't spend it killing other living creatures!"
Red-headed Brambilla, 49, posted the video to Youtube. An MP from Berlusconi's Forza Italia party, she is president of the Italian League for Defence of Animals and the Environment.
RIPRODUZIONE RISERVATA © Copyright Adnkronos.