Crowd applauds Trump in Taormina
CULTURE-AND-MEDIA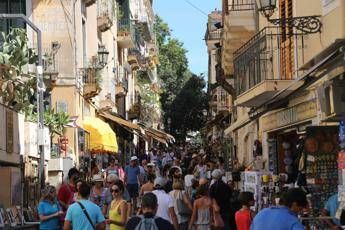 Pubblicato il: 26/05/2017 14:29
United States president Donald Trump on Friday was applauded by the crowd as he and other leaders attending the G7 summit toured the picturesque Sicilian coastal town of Taormina aboard golf carts.
"This is fantastic," Trump said as he travelled along Taormina's panoramic central street, Corso Umberto, which overlooks the Mediterranean and an ancient Greek amphitheatre perched above it.
Despite the tight security in Taormina for the G7, Trump insisted on meeting residents in the town as he returned from the summit at lunchtime to the luxury San Domenico Palace Hotel.
"Wow," he declared as he admired the stunning view from Taormina's 'Belvedere' central square with other G7 leaders including German Chancellor Angela Merkel and Italian premier Paolo Gentiloni.
The G7 leaders also received a 'salute' by Italian airforce jets which flew overhead, spewing out trails of red, white and green smoke - the colours of Italy's flag.
The two-day summit kicked off on Friday and officials said they expected tough talks there between Trump and his fellow G7 leaders on a range of issues from climate, trade and migration to defence and security.