Close Renzi ally survives no-confidence motion
POLITICS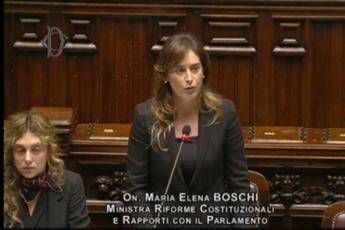 Pubblicato il: 18/12/2015 19:33
Italy's lower house of parliament on Friday rejected a no-confidence motion against reforms minister Maria Elena Boschi tabled by the grassroots Five Star Movement, whose father is a former vice president of bank recently rescued by the government.
Lawmakers spurned the motion with 373 votes against and 129 in favour.
Before the vote, Boschi, one of prime minister Renzi's closest allies denied she had a conflict of interest in the rescue of Banca Etruria of which her father Pierluigi Boschi was formerly vice-president.
In November, the Renzi government passed a controversial decree to save Banca Etruria and three other lenders and to protect depositors and senior bondholders from losing their money.
The bank is under new management and two former managers are under investigation in relation to possible wrongdoing.
Pierluigi Boschi is reportedly not under investigation but was fined 144,000 euros by the Bank of Italy in February when his bank was placed into receivership.
"My father was removed from his post and fined," Boschi told lawmakers. "There is no favouritism in our Italy," she added.
But further questions are emerging about how the 3.6 billion euro deal to rescue depositors was struck, including the passage of an apparent loophole in the rescue package that could shield senior bank administrators from liability.
Boschi has said she did not attend a critical meeting that approved the decree to rescue the bank, but conservative daily Libero has claimed she attended a different meeting where the apparent loophole was agreed.
RIPRODUZIONE RISERVATA © Copyright Adnkronos.