Detained Italian gay rights activist released in Russia
POLITICS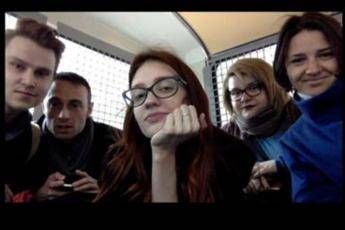 Pubblicato il: 11/05/2017 16:14
Italian rights activist Yuri Guaiana was freed in Moscow on Thursday after he was earlier arrested while trying to deliver a petition to Russia's prosecutor general demanding a probe into the alleged torture and detention of gay people in the Chechnya region, the Italian government said.
"Yuri #Guaiana has been released. He is being assisted by the Italian consulate and is being accompanied to the airport," Italy's junior foreign minister Benedetto Della Vedova tweeted.
Forty-two-year-old Guaiana was visited by Italy's charge d'affaires in Moscow at the police station where he was being held and was "well", Della Vedova wrote in an earlier tweet.
Italian politician and leader of the Luca Coscioni Association for Freedom of Research, Marco Cappato had announced Guaiana's arrest on Thursday.
LGBT activists Alexandra Aleksieva, Marina Dedales, Nikita Safronov and Valentina Dekhtiarenko, were also detained with Guiana, according to the Open Russia non-government organisation.
It was not immediately clear if Aleksieva, Dedales, Safronov and Dekhtiarenko were still under arrest.
Russian police said the activists were detained because their action was unauthorised.
The petition the activists were trying to deliver at the time of their arrest was signed "by more than two million people around the world," the Russian LBGT Network said.
It demanded an "unbiased investigation of the illegal detentions of hundreds of people in Chechnya because of their homosexuality," the group said.
Reports of a campaign against gay men by Chechen security forces began trickling through in early April when they appeared in Russian investigative weekly Novaya Gazeta and the LGBT Nework claimed there was "an organised campaign to detain gay men" in Chechnya.
Ramzan Kadyrov, leader of Chechnya, said last week he would cooperate with Russia's federal authorities on the issue but repeated recent assertions that gay people do not exist in the overwhelmingly Muslim republic.
RIPRODUZIONE RISERVATA © Copyright Adnkronos.