Technocrat nominee premier Cottarelli to meet Mattarella
POLITICS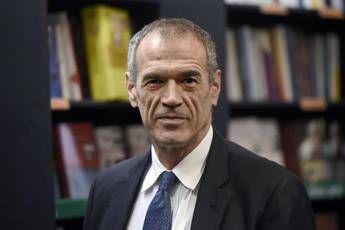 Pubblicato il: 29/05/2018 14:31
Former International Monetary Fund director and premier designate Carlo Cottarelli was due to unveil his proposed caretaker cabinet to Italy's president Sergio Mattarella on Tuesday, the Quirinale palace said.
The meeting between the pro-European Mattarella and the pro-austerity Cottarella, was slated to take place at 4.30 pm local time, the Quirinale stated.
Mattarella asked Cottarelli on Monday to try and form a technocrat government after populist nominee premier Giuseppe Conte - a law professor who allegedly embellished his CV - gave up his bid when Mattarella refused to accept a prominent eurosceptic as finance minister.
Italy has been in political limbo since the inconclusive 4 March national election in which populist parties made strong gains but no party or bloc won an outright parliamentary majority. Several rounds of talks with Italy's party leaders since the March polls collapsed amid a seemingly irreconcilable mesh of demands.
Mattarella's rejection of 81-year-old economist Paolo Savona - a rare presidential move - has sparked the fury of the Five-Star and far-right League parties, who had been poised to form a populist coalition government.
Five-Star leader Luigi Di Maio has announced plans to impeach Mattarella and major protest rallies on Saturday - Republic Day - while League chief Matteo Salvini also criticised Mattarella's decision, calling for mass protests and accusing Brussels and Germany of meddling.
Di Maio and Salvini, as well as Salvini's conservative ally, Forza Italia party leader and ex-premier Silvio Berlusconi, have said they will not back Cottarelli and his proposed government in a confidence vote.
Mattarella said he could not appoint Savona as finance minister due to concern from investors at home and abroad.
RIPRODUZIONE RISERVATA © Copyright Adnkronos.