Salvini 'perfectly attuned' with Conte on migration
POLITICS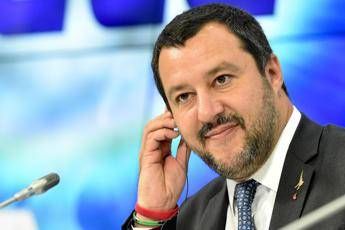 Pubblicato il: 19/07/2018 17:50
Hardline interior minister Matteo Salvini on Thursday said he was "perfectly attuned" with populist premier Giuseppe Conte on the issue of migration and the need for the European Union to coordinate the relocation of asylum-seekers through the bloc.
"I am very satisfied that Conte has written to the EU," Salvini told reporters at the parliament," referring to a letter Conte sent this week to European Commission and European Council urging the EU executive to set up a 'cabinet' to mediate with states on the redistribution of migrants rescued in the Mediterranean.
"We (Salvini and Conte) are perfectly attuned on this," Salvini said.
Conte last week ordered 67 migrants who were saved in the Mediterranean to be allowed to disembark from an Italian coastguard ship at Sicily's port of Trapani, ending a five-day standoff that had left the migrants stranded at sea.
Salvini, who alleged there were 'troublemakers' among the migrants who he wanted to be arrested before coming ashore, expressed "regret and amazement" at Conte's move, ministry sources said.
RIPRODUZIONE RISERVATA © Copyright Adnkronos.