Senate speaker decries Mussolini's racial laws
POLITICS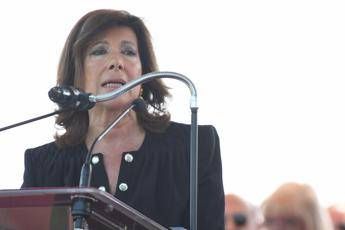 Pubblicato il: 14/09/2018 12:35
On the 80th anniversary of fascist dictator Benito Mussolini's 1938-1943 race discrimination laws which mainly targeted Jews, Italy's Senate speaker Maria Elisabetta Alberti Casellati decried the "despicable" events that took place in Europe during World War II.
"It is a duty of the Italian Senate to keep alive the memory of the despicable events that scarred much of Europe in those terrible years," Alberti Casellati said.
In this regard "dialogue with young people is the first and most important and most important of our duties," she underlined.
"It is also a duty to raise a more widespread and well-informed awareness of these events," she added, underlining the need for "constant dialogue with the Jewish community".
"I hope that every institution and community in Italy will take on the responsibility of transforming historical memory into an instrument of civil and cultural progress," she said.
Alberti Casellati was speaking at a presentation at the Italian Senate in Rome of a new volume of essays 'Race and Injustice. Lawyers and magistrates at the time of the Racial Laws'.
RIPRODUZIONE RISERVATA © Copyright Adnkronos.