Islamic State claims Moroccan embassy blast in Tripoli
SECURITY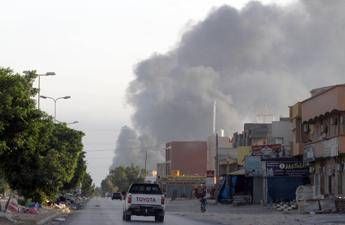 Pubblicato il: 13/04/2015 11:39
The Islamic State militant group on Monday claimed a bombing at the Moroccan embassy and an earlier blast at the South Korean embassy in the Libyan capital Tripoli.
IS's claim of responsibility for the two bomb blasts was issued via Twitter accounts used by the group for propaganda.
There were no casualties in Monday's blast at the Moroccan embassy, which is not currently operational, security officials and embassy sources said. The bomb was left in a bag at the embassy gate.
Morocco is hosting a UN-backed dialogue between representatives of the two rival governments controlling Libya, separate to talks that were to resume Monday in Algeria.
A Libyan security guard and a civilian were killed and a second guard was wounded in Sunday's attack on South Korea's embassy.
The United States and European powers pressed Libya's rival factions to set an "unconditional" ceasefire at the talks restarting on Monday.
Libya has been in turmoil since the NATO-backed removal of former leader Muammar Gaddafi in 2011.
IS has a presence in different parts of Libya, and says it is behind several attacks on foreign targets in Libya including embassies and oil fields.
RIPRODUZIONE RISERVATA © Copyright Adnkronos.