Ousted Islamist president Morsi jailed for life in spying case
SECURITY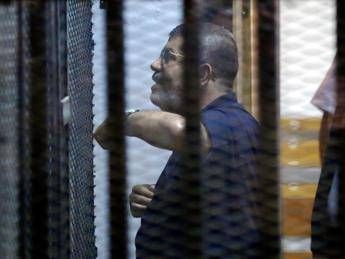 Pubblicato il: 16/06/2015 12:13
Egypt's deposed president Mohammed Morsi was sentenced to life in prison on Tuesday, in a case related to charges of spying for Palestinian Islamist group Hamas, Al-Ahram reported on its website.
The court also sentenced 17 defendants to life in prison, and 16 to death, including two leaders of Morsi's Muslim Brotherhood movement, Khairat El-Shater and Mohamed El-Beltagy.
Under Egypt's penal code, life sentences are 25 years.
In the espionage case, prosecutors charged Morsi and 35 other defendants with conspiring with foreign powers to destabilise Egypt.
The 'foreign powers' included Hamas, Lebanon's militant Shia group Hezbollah and Iran's Revolutionary Guards.
The court was expected to deliver its final verdict in Morsi's jailbreak case on Tuesday, over which he and over 100 people were sentenced to death on 16 May.
Morsi and his co-defendants were convicted of plotting jailbreaks and attacks on police during the uprising more than four years ago that overthrew president Hosni Mubarak.
Mursi, 64, was in prison when the anti-Mubarak uprising erupted on 25 January , 2011, having been rounded up with other Muslim Brotherhood leaders a few days previously.
RIPRODUZIONE RISERVATA © Copyright Adnkronos.