Four million euros of pure cocaine seized in southern Italy
SECURITY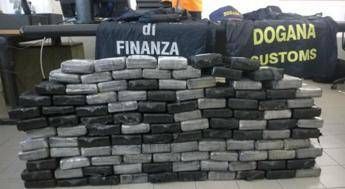 Pubblicato il: 24/10/2016 15:01
Italian police seized 19 kilogrammes of pure cocaine worth around four million euros aboard a container ship at in Calabrian port of Gioia Tauro on Monday.
The cocaine, which was divided into 17 loaves, was hidden within a cargo of frozen chicken shipped to Italy from the Brasilian port of Paranagua, according to tax police.
The cocaine was discovered through cross-checks carried out on shipping documents, sniffer dogs and high-tech scans of the suspect containers, police said.
Cooperation between tax police and customs officials has led to the seizure of over 1,100 kg of pure cocaine this year.
The powerful Calabrian mafia or 'Ndrangheta crime syndicate is known to traffick narcotics from South America and to have ties to Colombian and other drugs cartels.
RIPRODUZIONE RISERVATA © Copyright Adnkronos.