Libya asks Italy to send navy into its waters
SECURITY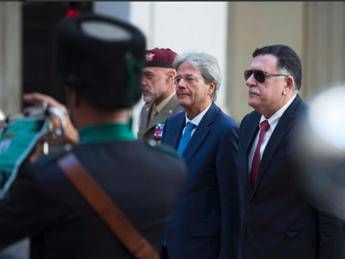 Pubblicato il: 26/07/2017 18:02
Italy's defence ministry is considering a request from Libya's United Nations backed premier Fayez al-Sarraj to send naval ships into Libyan territorial waters to help fight human trafficking, Rome said Wednesday.
Sarraj "sent a letter requesting the Italian government provide the technical support of Italian naval units in the joint struggle in Libyan waters against human traffickers,' Italian prime minister Paolo Gentiloni said.
Gentiloni said Italy's ministry of defence was considering the request and 'the options will be discussed with the Libyan authorities and the Italian parliament'.
"Should Italy respond positively, as I believe is necessary, it could be a very important development in the fight against people trafficking," Gentiloni added.
Gentiloni was speaking after a meeting in Rome with Sarraj. He heads Libya's Government of National Authority, established in 2015 and based in the capital Tripoli, which has been unable to impose its authority on the country.
Sarraj admitted "we need to do more so that our coastguard can fight illegal immigration and ensure that we have advanced technologies to control our coasts".
Italy, where over half a million migrants and refugees have arrived from Libya in past three years, is eager to stop the human traffickers boats setting sail from the crisis-wracked North African country, and is already helping train and equip Libyan coastguard.
More than 90,000 people have landed on Italy's shores since January, a 14-percent rise on the same period last year, according to government figures.
Italy is a member of the European Union Mediterranean naval monitoring mission Sophia. The mission operates in international waters and aims to disrupt the people and oil trafficking networks that have flourished amid the chaos in Libya since the fall of late dictator Muammar Gaddafi.
RIPRODUZIONE RISERVATA © Copyright Adnkronos.