Islamic State claims Las Vegas shootings
SECURITY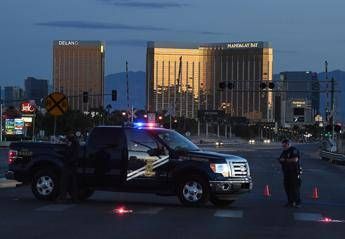 Pubblicato il: 02/10/2017 17:05
The Islamic State staged the attack on concert-goers in Las Vegas - the deadliest mass shooting in recent US history which killed at least 50 people and injured over 400 - the jihadist group stated on Monday.
"The Last Vegas attacker is a soldier of the Islamic State in response to calls to target coalition countries," read a first statement published by IS's Amaq news agency, quoted by US-based terrorist tracking group SITE.
The gunman, "converted to Islam several months ago," Amaq added in a second statement without providing further details.
"Given what is known of attacker Stephen Paddock, #ISIS needs evidence. Otherwise, might make ISIS appear (more) desperate for claims," tweeted SITE director Rita Katz, using the US acronym for IS.
Various media outlets have cited police sources as saying the gunman was 64-year-old Nevada resident Stephen Paddock.
Sheriff Joe Lombardo described the shooting as a "lone wolf" attack and said there was no immediate information about Paddock's motives.
"We have no idea what his belief system was," Lombardo said.
The gunman had multiple weapons and was able to fire down on an open-air music festival from the upper floor of a nearby hotel late on Sunday using an automatic weapon.
He is believed to have killed himself at the hotel after the attack.
The IS claim of responsibility for the shootings, which cannot be independently verified, came amid a global spike in recent terror attacks.
IS took credit for a stabbing attack that left two young women dead in the southern French city of Marseille earlier on Sunday, and car and knife attack in Edmonton, Canada.
Last week, IS released an audio tape purporting to be from the group's leader Abu Bakr al-Baghdadi praising jihadists killed in the battle to retake the northern Iraqi city of Mosul and other former IS bastions.
In the tape, Baghdadi urged followers to "intensify one attack after another against the infidels".
RIPRODUZIONE RISERVATA © Copyright Adnkronos.