Charity ships that enter Libyan waters won't dock in Italy: Salvini
SECURITY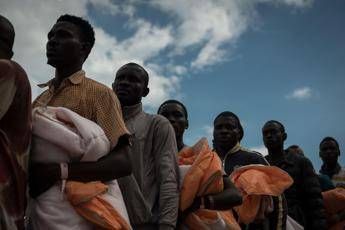 Pubblicato il: 16/07/2018 13:08
Hardline interior minister Matteo Salvini on Monday repeated his vow that charity boats rescuing migrants off Libya would not be allowed to dock at any of Italy's ports.
"At the moment, there are two Spanish NGO rescue vessels in Libyan waters," Salvini told reporters in Moscow, where he attended FIFA World Cup final on Sunday.
"Their complicity with the people trafficking business is clear," he said.
"These ships won't dock in Italy," Salvini pledged after a ship operated by the European Union's border and coastguard mission Frontex docked in Sicily with 450 migrants on board.
Italy said that France, Germany, Malta, Portugal and Spain had each agreed to take 50 migrants. Malta and Italy had earlier each insisted that the other country should allow the boat to dock.
Since talking office in June, Salvini has taken a tough stance against migrants rescue boats and has controversially turned away several, leaving hundreds of migrants stranded at sea for days until Spain and Malta eventually allowed the ships to dock.
Last week, Italy's president Sergio Mattarella intervened in a fresh standoff to allow 67 migrants off an Italian coastguard ship in the Sicilian port of Trapani. Mattarella phoned populist Italian premier Giuseppe Conte to express concern after Salvini refused to allow the migrants ashore pending an investigation into alleged "troublemaking" by some of the migrants, who were earlier rescued off Libya by an Italian privately owned oil rig tug.
RIPRODUZIONE RISERVATA © Copyright Adnkronos.