Tripoli's only functioning airport reopens after ceasefire
SECURITY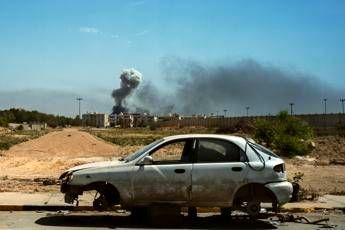 Photo: Lorenzo Tugnoli for The Washington Post.
Pubblicato il: 07/09/2018 15:14
Tripoli's Mitiga international airport has reopened following a week-long closure during deadly clashes between rival militias in the Libyan capital that were halted by a UN-brokered ceasefire announced late on Tuesday.
A Libya Airlines flight from the holy Saudi city of Medina landed at Mitiga at 8.30 am for a stopover before flying on to Tunis, Al-Wasat newspaper reported on Friday.
Libya's transport minister was quoted as saying "flights will gradually resume".
Over 60 people died and more than 100 were injured in the fighting in Tripoli's southern outskirts between rival armed groups. Stray ground-missiles landed near Mitiga and on private property during the clashes, which led to the airport's closure.
RIPRODUZIONE RISERVATA © Copyright Adnkronos.