Italy and Austria 'awakening' Europe - Salvini
SECURITY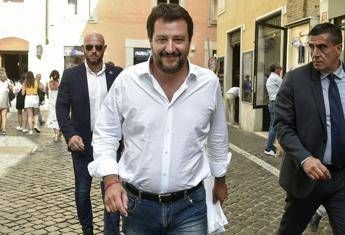 Pubblicato il: 14/09/2018 16:24
Italy and Austria are "waking up" Europe on immigration, anti-migrant interior minister Matteo Salvini said Friday on the sidelines of a meeting in Vienna of European Union interior ministers.
"Thank you to the Austrian presidency (of the EU) for the policies and for the change of gear, the new energy and debate on immigration, which is waking up Europe," Salvini stated.
He was speaking to reporters at a joint press conference with his Austrian counterpart Herbert Kickl.
Austria which currently holds the chair of the EU's six-month rotating presidency, is pushing for the bloc to get tough on migrants and prevent any repeat of the 2015 migrant crisis when a million people arrived from North Africa and the Middle East.
Austria's coalition government, which includes the far-right Freedom party, has called for soldiers from EU member states to help man the bloc's borders and stop migrants entering illegally.
The plans unveiled by Austria follow drills involving Austrian soldiers and Black Hawk helicopters held in June that simulated an influx of hundreds of migrants at the country's borders. The proposals have met with wariness by Germany and other EU member states,however.
Salvini, who heads the far-right League party, has set a goal of zero migration to Italy. He has closed Italy's ports to international rescue ships and has vowed to deport 500,000 illegal immigrants.
Some 700,000 boat migrants have reached Italy across the Mediterranean from North Africa since 2014.
RIPRODUZIONE RISERVATA © Copyright Adnkronos.