Mussolini granddaughter spouse jailed for sex with underage prostitutes
AKI ENGLISH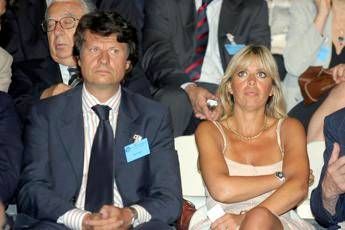 Mauro Floriani and Alessandra Mussolini
Pubblicato il: 22/10/2015 14:56
An Italian court on Thursday handed the husband of World War II dictator Benito Mussolini's granddaughter a suspended one-year prison sentence for having sex with underage prostitutes.
Mauro Floriani, a father of three, who is married to prominent conservative politician Alessandra Mussolini, plea-bargained the one-year jail term and was fined 1,800 euros by the court in Rome.
Floriani was one of the most frequent clients of two schoolgirls aged 15 and 16 who worked as prostitutes in an apartment in Rome's exclusive Parioli neighborhood, wiretaps revealed last year.
One of the girls' mothers was sentenced to six years and lost custody of her daughter, while a local barman who pimped for the teenagers got 10 years and an army corporal major got seven years.
Eleven clients have so far plea-bargained a year in prison and 30 more suspected clients have been probed.
Floriani is a manager at State-controlled national rail company Trenitalia and is a former tax police officer.
His sentence should cause some embarrassment to his wife, a former MP and Senator for the Forza Italia party who recently served as chair of a parliamentary children's rights committee.
RIPRODUZIONE RISERVATA © Copyright Adnkronos.