Eni launches landmark industrial complex in South Korea
BUSINESS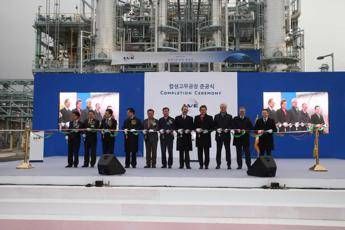 Pubblicato il: 23/11/2017 12:55
Italian energy giant Eni launched a groundbreaking integrated industrial complex for the production of elastomers on Thursday in Yeosu, South Korea, the company said in a statement.
"The construction of the first industrial complex in Asia is an important milestone in Versalis' international development strategy, which leverages valuable proprietary technologies," said Versalis' CEO, Daniele Ferrari.
"It also strengthens our leading position in the global elastomers market and other prospects for growth."
The launch of the new complex was attended by the local authorities, the ambassador of Italy to Korea, Marco della Seta, and major customers.
The new plants of Lotte Versalis Elastomers are a joint venture between Versalis (Eni), a global leader in the elastomers business, and Lotte Chemical, a major petrochemical company headquartered in South Korea.
The plants were built in a record time of 26 months and in conformity with sustainability principles, thanks to the use of the most advanced European technological standards, Eni said.
The integrated industrial complex is part of Eni's strategy to transform its chemical business also through international development, the company stated.
The joint venture, established in 2013 with the aim of targeting growth in the Asian elastomers market, draws on Versalis' technology, industrial expertise and commercial network, as well as Lotte Chemical's site integration, which ensures the availability of feedstocks and industrial facilities, said Eni.
The industrial complex has a nameplate capacity of 200 kton/year of elastomers (EPDM, Ethylene-Propylene Diene Monomer; s-SBR, solution-Styrene Butadiene; BR, Butadiene Rubber).
The production streams are targeted to premium application segments, mainly tyre and automotive industries, styrenics modification and technical goods.
Versalis is present in the Asia-Pacific region through its commercial units in Shanghai, Qingdao, Mumbai and Singapore.
RIPRODUZIONE RISERVATA © Copyright Adnkronos.