Fincantieri-controlled Vard to build new German cruise ship
BUSINESS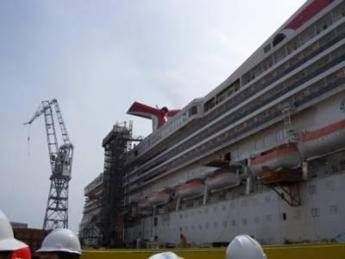 Pubblicato il: 03/07/2018 18:42
Fincantieri-controlled Vard Holdings - a major designer and builder of specialised ships - has won a new contract to construct a new luxury cruise vessel for leading German cruise company Hapag-Lloyd Cruises, Vard said on Tuesday.
The new luxury expedition cruise vessel is scheduled to be delivered from Vard Langsten in Norway in the second quarter of 2010 and the hull will be built by Vard in Romania, the company said.
The new cruise ship will be part of the Hapag-Lloyd Cruises HANSEATIC series, together with the two vessels that Vard is building for the Germany-based cruise company, both due to be delivered in 2019.
Developed by Vard in close cooperation with Hapag-Lloyd Cruises, the vessels are specially designed for cruises in polar regions in the Arctic and in Antarctica, as well as for operations in warm water destinations such as the Amazon, the company stated.
"It is encouraging to see returning customers such as Hapag-Lloyd Cruises, which bears testament to the quality of our vessels and services," said Roy Reite, Vard CEO and executive director.
The new cruise liner will be approximately 16,000 gross tons, about 139 metres long and 22 meteres wide. It will contain seven passenger decks, with accommodation for 230 passengers in 120 cabins and suites, Vard said.
Like its sister vessels, the new vessel will be equipped with a high standard of facilities, including a water sports marina and modern spa and fitness areas.
Hapag-Lloyd Cruises is owned by TUI Group, the world's leading integrated tourism business and is based in Hambur.
Norway-headquartered Vard is 86.81 percent controlled by Fincantieri, one of the world's largest shipbuilding groups.
Vard operates nine shipbuilding facilities, including five in Norway, two in Romania, one in Brazil and one in Vietnam. Through its specialised subsidiaries Vard develops power and automation systems, deck handling equipment, and vessel accommodation solutions, and provides design and engineering services to the global maritime industry, it said.
RIPRODUZIONE RISERVATA © Copyright Adnkronos.