MSC Cruises orders four deluxe cruise liners from Fincantieri
BUSINESS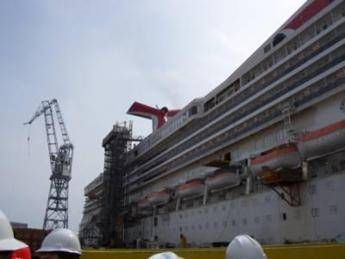 Pubblicato il: 18/10/2018 12:17
Italian shipbuilder Fincantieri on Thursday said it signed an agreement with MSC Cruises - the world's largest privately-owned cruise company - for the construction of four ultra-luxury cruise ships at a cost of over 2 billion euros.
The ships, the first of which will be delivered in Spring 2023, will have gross tonnage of approx. 64,000 GRT and feature 500 cabins, the Fincantieri statement said.
The remaining three ships will come into service one per year over the following three years.
The ships will feature state-of-the-art environmental technology and other cutting-edge "maritime solutions" at sea. Other features include highly-innovative design and new options for guest comfort and relaxation.
"We are extremely satisfied that, to launch a new class of ships in the luxury segment, MSC Cruises has recognized that our design will help them create a new generation of ships that will be cutting edge both in terms of safety and technological content, and with particular attention paid to passenger comfort," said Fincantieri's executive officer Giuseppe Bono.
Fincantieri now has 53 cruise ships in its order book, confirming its position as "absolute market leader," Bono added.
"These ships will be able to offer unique itineraries, thanks to their size, and the guest services will be taken to another level, including our personalised MSC Yacht Club butler service, available 24/7," said MSC Cruises executive chairman Pierfrancesco Vago.
The new order expands MSC Cruises' partnership with Fincantieri "introducing another new class, which will establish a new standard of ultra-luxury at sea with ships that will showcase the quality and highest standards that are associated with Made in Italy," Vago said.
The four new cruise ships ordered from Fincantieri bring to 17 the total new ships to be built by 2027 for an overall investment of 13.6 billion euros - an investment plan that is unprecedented in the industry, according to the statement.
RIPRODUZIONE RISERVATA © Copyright Adnkronos.