Conte discusses monetary reform with Eurogroup president
BUSINESS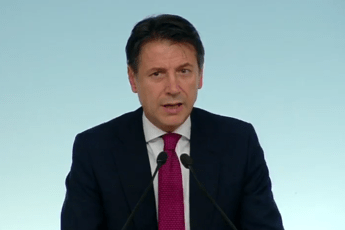 Pubblicato il: 09/11/2018 18:52
Italy's populist premier Giuseppe Conte on Friday held talks in Rome on reform of monetary union with Eurogroup president Mario Centeno ahead of the Euro Summit next month, Conte's office said in a statement.
During their meeting at the prime minister's office, Conte and Centeno "exchanged views", especially on Italy's draft 2019 budget, the statement said.
"The meeting also provided an opportunity for detailed discussion on the Italian government's initiatives on structural reform," the statement concluded.
A euro crisis appeared to loom on Friday when Italy's finance minister Giovanni Tria said after a meeting with Centeno that the "pillars" of Italy's expansionary 2019 budget plans would not change.
The government is locked in a clash with the European Commission on its budget plans, accusing Brussels of botched analysis over its economic forecasts. The Commission has asked Italy to resubmit by Tuesday its draft budget, which triples the deficit target to 2.4 percent of GDP.
The Commission said on Thursday that Italy's budget plans were based on unrealistic assumptions about growth.
The Commission's economic forecast suggests Italy's deficit will hit 2.9 percent of GDP next year and then rise to 3.1 percent in 2020, which would break eurozone fiscal rules.
RIPRODUZIONE RISERVATA © Copyright Adnkronos.