Fincantieri inks €200m deal with Windstar Cruises
BUSINESS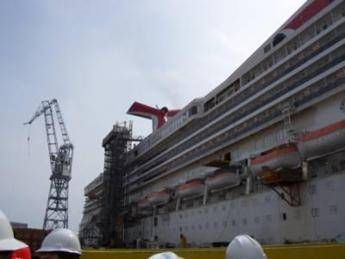 Pubblicato il: 16/11/2018 14:16
Fincantieri has signed a contract with US-based Windstar Cruises to extend and modernise three cruise ships at its Palermo yard - a deal worth over 200 million euros that cements the company's position as a leader in ship repair and conversion, the Italian shipbuilder said in a statement on Friday.
Windstar's three cruise liners currently have a length of 134 metres, with a tonnage of approximately 10,000 tons and a capacity of 212 passengers. On completion of these projects, ship will have a length of approximately 160 meters, a tonnage of around 13,000 tons and be able to accommodate 312 passengers, Fincantienti said.
The work will start in the Spring and is scheduled for completion by November 2020, and is expected to be partially financed through an export credit facility guaranteed by Italy's export credit agency SACE.
"It is a program with great impact in the cruise industry which consolidates the position of Fincantieri Services and the one of Palermo shipyard as market leaders in the sector of ship repair and conversion; this segment is of great interest to us and one which we are seeking to develop," said Giorgio Rizzo, Executive SVP of the Services Division of Fincantieri.
"The execution of these contracts will require an extremely high level of engineering competence and project management which will be repeated three times in the space of one year and will demonstrate the full capability of our organization," Rizzo said.
The project will involve the cruise ships "Star Breeze", "Star Legend" and "Star Pride" and will be carried out entirely by the Fincantieri Ship Repair and Conversion at the shipyard in Palermo, , the company said.
The project will involve three main activity areas: lengthening of the mid-body by approximately 26 metres; the total renewal of nearly all the propulsion machinery including main engines, replacement of electrical generators and automation systems and other equipment; extensive modernization of public areas, passenger cabins and open decks, and upgrading of some crew areas, according to Fincantieri.
"The initiative not only creates beautiful new suites and public spaces, but we will also take the opportunity to re-engine the ships with a more fuel efficient and environmentally responsible propulsion system. This will be a true game changer for Windstar and our small ship cruise experience," said Windstar President John Delaney.
Windstar Cruises, headquartered in Seattle, operates a six-ship fleet of small sailing and all-suite ships visiting approximately 300 ports and 80 countries sailing to Europe, the Caribbean, Mexico, Central America, Costa Rica and the Pan-ama Canal, Asia, Alaska and British Columbia, Canada and New England, South Pacific and Tahiti.
Fincantieri has around 20 shipyards in 4 continents, over 19,000 employees and is the leading Western shipbuilder and one of the world's largest shipbuilding groups. It has built over 7,000 vessels in its 230-year history.
RIPRODUZIONE RISERVATA © Copyright Adnkronos.