Fincantieri launches new Carnival mega cruise ship
BUSINESS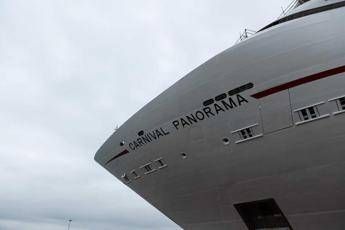 Pubblicato il: 06/12/2018 16:24
Italian shipbuilder Fincantieri on Thursday floated out the Carnival Panorama - the latest 'Vista class' vessel built for cruise giant Carnival at the group's Marghera, Venice shipyard, Fincantieri said in a statement.
Interior fittings will now begin, leading the ship to its delivery, scheduled in autumn 2019, the statement said.
The launching was introduced by the traditional and well-wishing "coin ceremony", consisting, according to an ancient shipbuilding custom, in welding a silver dollar on the last deck of the ship.
Godmother of the ceremony was Antonella Cazzin, employee of Fincantieri's shipyard in Marghera for more than 35 years, said the statement.
Ben Clement, Senior Vice President of Carnival Cruise Line, Marco Scaramuccia, Project Manager of Carnival Panorama, and the director of Fincantieri's Marghera shipyard, Antonio Quintano, attended the ceremony.
The Carnival Panorama is a sister ship of Carnival Vista, delivered in Italy's northeastern city of Monfalcone in April, 2016, and Carnival Horizon, built in Marghera and delivered this year in March. It is the latest of Fincantieri's cutting-edge 'Vista' class cruise liners - the biggest, most luxurious and technologically advanced vessels the group has ever built for Carnival, according to the statement.
The new ship weighs 133,500 gross tons and 323 metres long. It will have 2,004 passenger cabins and 770 for crew, being able to accommodate more than 6,500 people onboard, including staff.
"The interior fittings are of an extremely high level quality comfort, offering a wide range of onboard entertainment, restaurants, theatres, shops and wellness centres. On this ship as on the previous ones of the 'Vista' class, there will be the Havana Area, a themed private and exclusive area, with cabins, open bars and an Infinity Pool," read the statement.
In addition to Carnival Panorama, the Marghera shipyard has on its order book the second ship for the Costa Asia brand and the third "Pinnacle" class unit for Holland America Line, respectively scheduled to be delivered in 2020 and 2021, the statement added.
Carnival Corporation is the world's largest cruise ship operator while Fincantieri is one the biggest shipbuilders, with shipyards in four continents. It has built 87 cruise ships since 1990 and 53 ships are currently being designed or built in its yards.
RIPRODUZIONE RISERVATA © Copyright Adnkronos.