Italy must engage with France over high-speed train link - EU
BUSINESS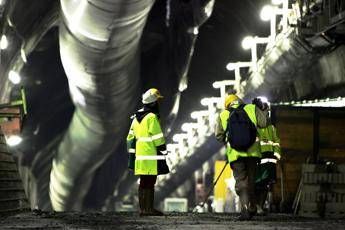 Pubblicato il: 15/02/2019 15:21
The EU on Friday urged Italy to hold talks with France on the stalled high-speed rail tunnel between the two countries, saying "every effort" must be made to ensure the 8.6 billion euro project, which the bloc is co-financing, is finished on time.
"The project is underway and it is important that both sides keep up every effort to complete it on time," said the European Commission's transport spokesman Enrico Brivio.
The European Commission expects the high-speed Alpine rail tunnel connecting Turin with Lyon "to be finished according the agreement," Brivio told reporters in Brussels, saying the project was "strategic" for the EU.
"If one of the two sides has an official position that differs, it should first of all speak to the other side," Brivio said.
His remarks came after Italy's transport ministry on Tuesday issued a cost-benefit analysis on the project known in Italy as the TAV which branded the project a waste of public money, saying it would have a "strongly negative" financial return
The European Commission on Wednesday asked Italy for urgent clarification on the cost/benefit analysis published by the transport ministry, which is at the centre of a political standoff between the two ruling parties.
While the far-right ruling League party wants the TAV to be built, its coalition partner the grassroots 5-Star Movement's leader Luigi Di Maio and transport minister Danilo Toninelli have long opposed it on cost and environmental grounds.
After taking power last summer, the populist government halted the 8.6 billion euro project to build the 57.5-kilometre tunnel which will cut the current 7 hour train journey from Turin to Lyon by 2.5 hours.
Due to opposition to the project from 'no-TAV' activists, construction only started in 2013 on the Italian side of the tunnel compared to 2002 in France. So far only 30 kilometres, or about 15 per cent of the total tunnel has been built, with the project slated for completion by 2030.
France and the EU - which is paying for 40 percent of the tunnel - could seek damages from Italy if the project is binned.
Italy could also lose 813 million euros of EU funds if it doesn't launch the next phase involving 1.9 billion euros worth of contracts by the end of this year, according to the government's TAV commissioner Paolo Foietta, whose five-year term was due to expire on Friday.
RIPRODUZIONE RISERVATA © Copyright Adnkronos.