Francis urges youth to work for a better Italy
CULTURE-AND-MEDIA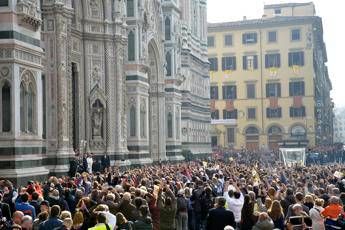 Pubblicato il: 10/11/2015 14:23
Pope Francis on Tuesday called on Italy's youngsters to actively build a better future for their country and not to be passive onlookers in life.
"I appeal above all to you young people, because you are strong," Francis said in an address at Florence's famous Cathedral of Santa Maria del Fiore during a landmark visit to the city.
"I ask you to get to work and build a better Italy," he continued.
"Don't just look on from the sidelines, but get involved, throw yourselves into wide-ranging social and political dialogue," Francis said.
Francis was in the Tuscan city on Tuesday to attend the opening session of the Italian Bishops's Conference's fifth national church conference taking place at the cathedral.
He was later due to dine in a soup kitchen with some of the city's poor and celebrate mass before some 52,000 people in Florence's Artemio Franchi soccer stadium.
Security has been tightened and 36 extra trains laid on to transport thousands of pilgrims expected to arrive from all over Italy for Francis' visit - the first to Florence by a pontiff in 30 years.
Francis earlier on Tuesday visited the nearby textile town of Prato, which is home to a large Chinese community.
RIPRODUZIONE RISERVATA © Copyright Adnkronos.