Trump re-tweets Mussolini quote
POLITICS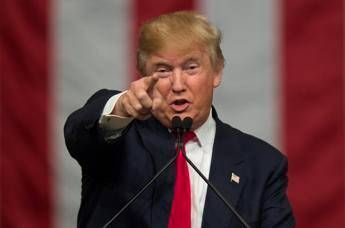 Pubblicato il: 29/02/2016 15:19
Republican US presidential candidate Donald Trump sparked controversy on Sunday when he re-tweeted a saying attributed to Italy's fascist dictator Benito Mussolini.
"@ilduce2016: "It is better to live one day as a lion than 100 years as a sheep." - @realDonaldTrump #MakeAmericaGreatAgain read the re-tweet posted on Trump's official Twitter account.
The quote was originally tweeted by @ilduce2016, an account under Mussolini's nickname, Il Duce.
When asked about his re-tweet of the quote, Trump told NBC news that he wanted to be associated with "interesting quotes" and was aware the saying is believed to have come from Mussolini, who famously used it in a 1922 speech.
It emerged that Trump was 'tricked' by American journalist Ashley Feinburg, who set up @ilduce2016, a robotic twitter account that has as its profile photo a portrait of the dictator with Trump's wispy hair photo-shopped onto his bald head.
Last week, former Ku Klux Klan leader David Duke, who was expelled from Italy in 2013 for his extremist views, publicly endorsed Trump's bid to become the Republican presidential nominee.
Jean-Marie Le Pen, the founder and ex-leader of far-right French political party Front National, which is known for its anti-immigration policies, has also backed Trump's campaign.
"If I was American, I would vote for Donald Trump - God protect him," Le Pen tweeted in French on Saturday.
RIPRODUZIONE RISERVATA © Copyright Adnkronos.