Salvini joins Pope's plea to allow Alfie Evans further treatment
POLITICS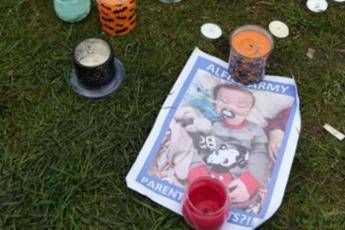 Pubblicato il: 26/04/2018 19:35
The parents of seriously ill 23-month-old British baby Alfie Evans should be granted their wish for him to receive further treatment after doctors at a UK hospital removed his ventilator, Italy's centre-right leader Matteo Salvini said on Thursday.
"I share the appeal by Pope Francis. Stay strong little Alfie, life is never a burden," Salvini wrote on Facebook.
Savini's post came after a British High Court judge on Tuesday rejected an appeal by Alfie's parents to allow the boy to be flown to the Vatican-run Bambin Gesu children's hospital in Rome for treatment.
Italy granted Alfie citizenship this week and lined up a transportation plan after the pontiff intervened in his case and met the boy's father in Rome. Tom Evans has reportedly asked Francis to visit Alfie's bedside.
"Moved by the prayers and immense solidarity shown little Alfie Evans, I renew my appeal that the suffering of his parents may be heard and that their desire to seek new forms of treatment may be granted," Francis tweeted on Monday - the day the child's life support was withdrawn following a British High Court ruling in February.
Alfie has been at the northwest English city of Liverpool's Alder Hey hospital since December 2016 and has a rare undiagnosed degenerative neurological condition. He has been described as being in a "semi-vegetative" state.
Hospital doctors say Alfied has irreversible brain damage and cannot recover and keeping him on a ventilator is not in "his best interests". Further treatment is not only "futile" but also "unkind and inhumane" according to the doctors - evidence accepted by several UK High Court judges.
RIPRODUZIONE RISERVATA © Copyright Adnkronos.