Italy welcomes access to subway footage in Regeni case
POLITICS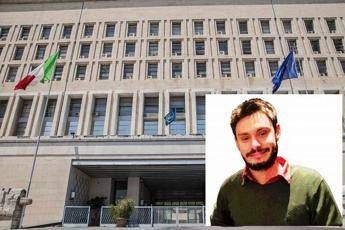 Pubblicato il: 08/05/2018 14:32
The government on Tuesday said it welcomed news that Italian investigators probing researcher Giulio Regeni's unsolved murder will travel to Cairo next week to take part in retrieving CCTV footage from the metro station where he vanished on 25 January 2016.
"We approve of the forthcoming trip to Cairo by Rome prosecutors and the progress in the investigation," the foreign ministry said in a statement, referring to the visit scheduled for next Tuesday.
"We have learnt that images are to be made available which the public prosecutor's office has long requested," the statement added.
The statement hailed the return of Italy's ambassador to Egypt last year after a 15 month-long diplomatic row over a lack of progress in solving the horrifying case. Regeni, 28, was abducted, tortured to death and his mutilated body was found in a ditch on the outskirts of Cairo nine days later.
"The presence of our ambassador (Giampaolo Cantini) has led to good results and I am certain we will shed full light on Giulio Regeni's tragic death," foreign minister Angelino Alfano stated.
The retrieval of the security camera footage at the Dokka metro station where Regeni disappeared will give investigators "another missing piece of the jigsaw," Alfano added.
Alfano spoke to Rome chief prosecutor Giuseppe Pignatone by phone and has briefed members of the Italian cabinet about the upcoming visit to Cairo by investigative experts, according to the foreign ministry.
Egyptian public prosecutor Nabil Sadek said in a statement on Monday that he had invited Pignatone in a telephone call on Sunday to send a delegation to attend the retrieval of the Dokka metro station recordings on 15 May.
Sadek said Cairo had agreed to give the Italian delegation a copy of the recordings.
Regeni had been doing postgraduate research into Egyptian trade unions before his death. There has been widespread suspicion among western diplomats and in the Italian press that Egypt's security forces were behind Regeni's brutal killing - claims repeatedly denied by the Egyptian government.
RIPRODUZIONE RISERVATA © Copyright Adnkronos.