EU in uncertain phase says Gentiloni
POLITICS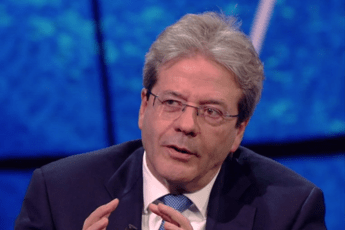 Pubblicato il: 11/05/2018 19:28
The European Union is currently undergoing an "uncertain" period in its history , Italy's prime minister Paolo Gentiloni told the annual State of the Union meeting in the central Italian city of Florence on Friday.
"The state of the European Union is uncertain," Gentiloni said.
"We've got through the most difficult patch but there are still clouds on the horizon and we are struggling to turn ambitions into concrete steps forward," Gentiloni said.
European banking union "must happen" Gentiloni told the Florence meeting which comes ahead of a June EU summit where leaders will discuss reforms to the European institutions.
Gentiloni's remarks echoed comments made earlier on Friday at the conference by European Central Bank president Mario Draghi who said completing banking union was needed to increase risk sharing in the eurozone.
Draghi noted that public support for a bank liquidation fund in eurozone banking union is "still lacking".
"We haven't managed to move forward from the debates on these themes that have paralysed the EU for years," Gentiloni said.
In an address to the Florence conference on Thursday, Italy's president Sergio Mattarella warned that the EU was facing unprecedented challenges amid growing support for populist parties and euroscepticism.
The European edifice is "shaking" and needs urgent maintenance, Sergio Mattarella told the conference.
But Mattarella said that European integration should continue saying it was folly not think that Europe's problems could be solved by nations going it alone.
RIPRODUZIONE RISERVATA © Copyright Adnkronos.