Five-Star-League plan to slash number of Italy's lawmakers - Di Maio
POLITICS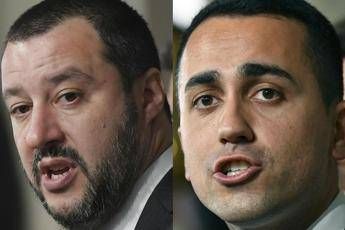 Pubblicato il: 16/05/2018 16:41
The populist Five-Star Movement's leader Luigi Di Maio said on Wednesday that the common policy agenda his party is hammering out with the far-right League party will cut the number of Italian lawmakers.
"Reducing the number of parliamentarians is in the contract," Di Maio told reporters outside the parliament, referring to the German-style 'contract of government' that Five-Star and the League are negotiating.
"This is one of the main challenges," Di Maio said.
Di Maio and League and centre-right coalition leader Matteo Salvini have said they are optimistic they may be able to wrap up a programme of government on Wednesday.
In a live video stream on Facebook, Salvini said a definitive programme should be completed by the end of the day and that the two parties would update Italian president Sergio Mattarella by Monday on their efforts to form a government.
There was still no word on the vexed issue of who would be premier - a job that Di Maio and Salvini both covet.
Mattarella has extended indefinitely the last-ditch talks between Five-Star and the League on a tie-up, which began last Thursday.
If the talks fall through, Mattarella will appoint a 'neutral' caretaker government to oversee fresh elections later this year.
Several previous rounds of talks with Italian political leaders have collapsed since the inconclusive 4 March national election, amid a mesh of seemingly irreconcilable demands.
RIPRODUZIONE RISERVATA © Copyright Adnkronos.