Premiership the obstacle in Five-Star-League talks says populist leader
POLITICS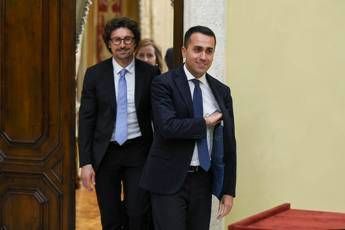 Pubblicato il: 16/05/2018 12:17
The issue of who leads a Five-Star-League government is the stumbling-block in ongoing talks on a coalition government, populist leader Luigi Di Maio has said, according to Five-Star sources.
"We are about 48 hours away from a deal (on a German-style contract for a programme of government)," Di Maio said, sources in his party told Adnkronos.
"The Gordian knot is the premiership," Di Maio allegedly told members of Five-Star's executive late on Tuesday, according to the sources.
Possible solutions include appointing an "external" individual supported by Five-Star and the far-right League, Di Maio said, according to sources within his party.
"Otherwise, (League leader) Matteo (Salvini) and I could alternate but that's complicated - we'd need to agree who would hold the post first," the sources quoted Di Maio as saying.
The third and least likely option would be alternating "external" prime ministers - one chosen by Five-Star and one by the League, the sources citing Di Maio as stating.
Di Maio claimed that the "teamwork" with Salvini was going well despite the odd "tug of war", the Five-Star sources told Adnkronos.
"He is much more consistent than the old (Northern) League," Di Maio allegedly said
Salvini said on Wednesday that negotiations had entered "the final strait".
Di Maio on Monday asked Italy's president Sergio Mattarella to give the two sides "a few more days" of last-ditch talks aimed at forming a government.
Italy has been in political limbo since the inconclusive 4 March election in which Five-Star emerged as the largest party and the centre-right alliance led by Salvini became the biggest political bloc.
Mattarella must approve Di Maio and Salvini's pick of prime minister and lawmakers must approve their proposed government in a parliamentary vote.
If the Five-Star-League talks on a tie-up fall through, Mattarella will appoint a 'neutral' caretaker cabinet to oversee a re-vote, possibly in the the next few months.
RIPRODUZIONE RISERVATA © Copyright Adnkronos.