Berlusconi says he and Salvini are 'far apart'
POLITICS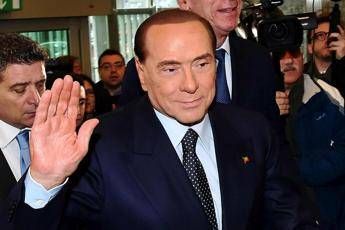 Pubblicato il: 18/05/2018 15:59
Much distance presently exists between conservative Forza Italia party leader Silvio Berlusconi and his political ally and far-right League party chief Matteo Salvini, Berlusconi said on Friday.
"At the moment, we are far apart," Berlusconi told reporters in the northern city of Aosta where he was campaigning ahead of regional elections on Sunday.
Earlier on Friday, Berlusconi said he was "deeply worried" over the agenda for a populist coalition government hammered out by the League and the grassroots Five-Star Movement.
"There many parts of it (the populist common agenda) that are at direct odds with the accord between allied parties of the centre-right," Berlusconi said.
The veteran politician said he and Forza Italia's leadership would be poring over the 59-page document this weekend and "taking a decision".
Five-Star leader Luigi di Maio and Salvini hammered out their common agenda after Berlusconi last week said he would not stand in the way of a Five-Star-League government, while refusing to back it in a confidence vote.
Efforts on a populist-conservative tie-up had previously been thwarted by Di Maio's insistence that his party could not form a government with Berlusconi, who has a conviction for tax fraud and is on trial for bribery and who Five-Star views as symbolising political corruption in Italy.
The centre-right alliance has been led by Salvini since the League outperformed Forza Italia in the inconclusive 4 March national election that led to over two months of political deadlock.
Five-Star is Italy's biggest party while the centre-right alliance is the largest political bloc since the March polls in which rightwing and populist parties made strong gains.
RIPRODUZIONE RISERVATA © Copyright Adnkronos.