Credentials of academic nominated Italian premier disputed
POLITICS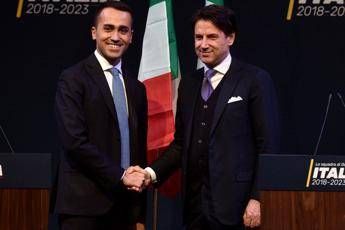 Five-Star leader Luigi Di Maio (L) shakes hands with Giuseppe Conte (R)
Pubblicato il: 22/05/2018 12:11
Giuseppe Conte, a law professor picked by Italy's Five-Star Movement and the League party to lead their nascent populist government "does not show up" in New York University's records "as a student or faculty member", the New York Times newspaper on Tuesday cited an NYU spokeswoman as saying.
Conte, a little-known Italian academic and a political novice, lists research at famous universities around the world, including Yale, the Sorbonne in France and NYU, where he said he "perfected and updated his studies" for at least a month each summer from 2008-2012, the New York Times reported.
Asked about Conte's experience at NYU, spokeswoman Michelle Tsai said: "A person by this name does not show up in any of our records as either a student or faculty member," according to the New York Times.
It was possible that Conte had attended one or two-day programs for which the school does not keep records, the New York Times quoted Tsai as adding.
RIPRODUZIONE RISERVATA © Copyright Adnkronos.