Conte to remain populist candidate for premier says Di Maio
POLITICS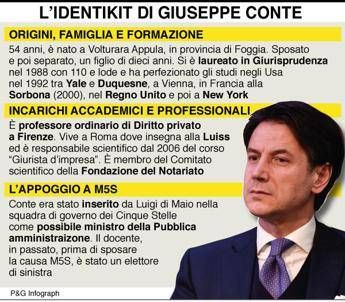 Pubblicato il: 23/05/2018 13:02
Giuseppe Conte, the law professor tapped by the nascent populist government to become Italy's next prime minister is still its candidate for premier, Five-Star Movement leader Luigi Di Maio said on Wednesday amid accusations that Conte lied on his CV.
"Conte remains the prime ministerial candidate for a Five-Star-League government," Di Maio stated.
Fifty-four-year-old Conte, a political novice and recent member of Five-Star - now Italy's biggest party - faces accusations that he embellished his academic credentials on his CV.
Conte's resume claims affiliations with several international elite universities in the UK, the US, France and Austria, although it rarely specifies courses taken or areas of study.
Conte stated that he "perfected and updated his studies" at New York University (NYU) during the summers of 2008 to 2014 but the university said it had no record of him and he had only obtained permission to use its law library.
Conte, who teaches civil law at the University of Florence, also claims to have studied law at the International Kultur Institut in Vienna, Austria - a language school that does not offer any legal courses.
Cambridge University and the Sorbonne in Paris have neither confirmed nor denied that Conte attended the institutions.
Five-Star defended Conte on Tuesday and criticised the foreign and Italian press for suggesting he had lied about academic credentials he had never claimed to have.
"Giuseppe Conte wrote clearly that he perfected and updated his studies at New York University. But he did not cite courses or say he completed a master's at the university," the party said in a statement.
Conte "had never boasted" of his degrees but had "stayed abroad to study, enrich his knowledge and perfect his juridical English," the statement said.
"It is the umpteenth confirmation that they [the press] are so afraid of this government of change," the statement added.
Conte's resume is not the only controversy to emerge about him. News reports have highlighted his involvement in a case involving a discredited medical treatment invented by Davide Vannoni, a former professor who in 2015 was convicted of conspiracy and fraud for administering unproven stem cell treatments to patients at his Stamina Foundation.
In 2013, Conte won a legal case enabling a critically ill child who died in 2017 to be treated with Vannoni's Stamina method at a hospital in Brescia. The Italian government banned testing for the method in 2014.
Italy's president, Sergio Mattarella, who can confirm or reject the choice of Conte, is seeking more time to consider the nomination. The delay led to speculation in Italian media that Mattarella might push for Di Maio to serve in the role.
RIPRODUZIONE RISERVATA © Copyright Adnkronos.