Di Maio urges EU to intervene over charity rescue ships, migrant influx
POLITICS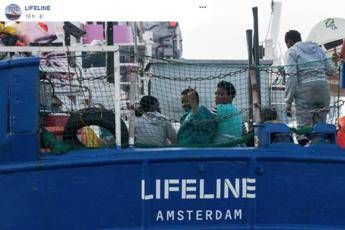 Pubblicato il: 22/06/2018 13:02
Labour and industry minister Luigi Di Maio on Friday called on the European Union to show "solidarity" with Italy in protecting its borders and reining in charity ships carrying out what the populist government alleges are illegal rescues of migrants off Libya.
"Following reports of some charity ships flying flags belonging to states that don't recognise them, there is clearly a problem," Di Maio told journalists in Rome at a trade union event.
He was referring to the ships Lifeline and Seefuchs, operated by German NGO Mission Lifeline, which the government said on Thursday it would seize "and direct to our ports" where their legal status would be probed.
Rome claims the two ships are "illegally" flying the Dutch flag after the Dutch representation to the European Union tweeted on Thursday that the ships did not appear in the Dutch naval registers - a claim denied by Mission Lifeline.
"If other EU states don't give us a hand, they will show that Europe lacks solidarity," Di Maio said.
The Lifeline ship said it rescued more than 200 people off the Libyan coast on Thursday and according to the Italian government did not allow Libya's coastguard to take part in the rescue.
Italy's anti-migrant interior minister Matteo Salvini has repeatedly accused NGOs of being complicit with human smugglers operating in Libya and Thursday vowed on Facebook that "foreign NGO boats will never touch Italian soil again."
Mission Lifeline's co-founder, Axel Steier, denied breaking any laws and defended his organisation's actions in rescuing migrants in the Mediterranean.
Earlier this month Salvini refused to open Italy's ports to the NGO Sos Mediterranee's ship Aquarius with some 630 rescued migrants on board, leaving it stranded in the Mediterranean after Malta declined to help. Amid a diplomatic standoff sparked by Italy's hardline stance, the boat was eventually taken to the port of Valencia in Spain.
Leaders from 10 EU member states will meet in Brussels on Sunday to discuss how best to stem the flow of migrants to the bloc.
The Italian government has said it will not sign up to any EU plan unless it makes helping Italy a priority, while Poland, the Czech Republic, Slovakia and Hungary - known as the Visegrad Group - say they will boycott the talks. They have refused to accept any refugees under quotas agreed by EU heads of state and government in 2015.
RIPRODUZIONE RISERVATA © Copyright Adnkronos.