Salvini and Toninelli 'totally attuned' on migrant rescue boats
POLITICS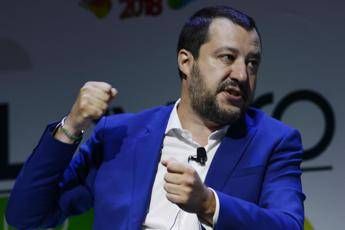 Pubblicato il: 02/07/2018 16:02
Italy's far-right interior minister Matteo Salvini is "working very well with" transport and infrastructure minister Danilo Toninelli on the issue of barring NGO migrant rescue ships from the country's ports, Salvini said on Monday.
"We are totally attuned," Salvini told reporters in Milan.
"Toninelli is right," Salvini said, commenting on remarks by Toninelli that he and Salvini needed to decided together on the closure of Italian ports to migrants who rescued by foreign charities in the Mediterranean.
"We have been working together very well for about a month," Salvini said.
Tonelli, belongs to the anti-establishment Five-Star Movement, which last month formed a populist government with the anti-migrant League party led by Salvini after Italians elected a hung parliament on 4 March.
Since the new government was sworn in on 1 June, it has taken a tough stance on charity ships that rescue migrants off Libya, and has already turned away three such boats. Following diplomatic standoffs that left the rescue boats stranded at sea for days, Spain accepted two of the vessels while Malta took one - provided other EU states including Italy agreed to receive some of the migrants.
Over 700,000 boat migrants have landed in Italy since 2014. Faced with the country's threat to veto the conclusions of the European Council summit last week unless it received more help from other EU states in handling the migrant influx, EU leaders controversially agreed to set up secure centres for migrants in the bloc, to create 'disembarkation platforms' outside the bloc and to redistribute refugees among member states.
RIPRODUZIONE RISERVATA © Copyright Adnkronos.