Italy, France, UK and US hail re-opening of key Libyan oil ports
POLITICS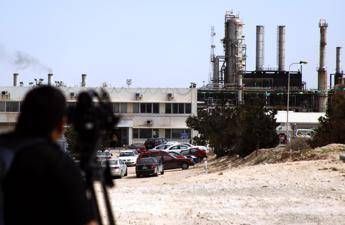 Pubblicato il: 12/07/2018 20:14
The governments of Italy, France, the United Kingdom, and the United States on Thursday on Thursday welcomed news that Libya's Tripoli-based National Oil Corporation would re-open four ports and resume oil exports after eastern factions handed them over, ending a standoff that caused output to collapse in the oil-rich country.
" We commend the legitimate National Oil Corporation as it repairs infrastructure, honours its contractual obligations, and, having lifted the state of emergency provisions in eastern Libya, restores oil exports and production critical to Libya's prosperity," read the joint statement.
" We also appreciate the LNA's contributions to restore stability in Libya's oil sector, which is critical to Libya's national interest," said the statement. It referred to the Libyan National Army of renegade General Khalifa Haftar, which handed back the oil export terminals of Ras Lanuf, Es Sider, Zueitina and Hariga on Wednesday.
Stressing that Libya's oil facilities, production, and revenues belong to the Libyan people, the statement urged NOC to be allowed to work "on behalf of all Libyans."
Libya's oil resources must remain under NOC's exclusive control and "the sole oversight" of the United Nations backed Government of National Accord, the statement said. It urged all Libyan faction to debate ways to "improve fiscal transparency, strengthen economic institutions, and ensure just distribution of the country's resources."
"More broadly, we call on Libya's leaders to seize this important opportunity, within the framework of the Libyan Political Agreement, to resolve differences over the Central Bank of Libya, enhance dialogue on the distribution of resources through the national budget, and work toward the unification of the Central Bank of Libya and the dissolution of parallel institutions," said the statement.
The statement was referring to a deal in December 2015 between Libya's political factions that created the UN-backed unity government.
"We also stand in solidarity with Libya's leaders as they work toward an inclusive Libyan owned political process that will lead to credible, peaceful and well-prepared national elections as soon as possible," the statement underlined.
"The Governments of France, Italy, the United Kingdom, and the United States pledge to support Libyan leaders in pursuing these measures and will use all tools at our disposal to hold accountable those who undermine Libya's peace, security, and stability," the statement concluded.
RIPRODUZIONE RISERVATA © Copyright Adnkronos.