Di Maio backs Mattarella over migrant standoff
POLITICS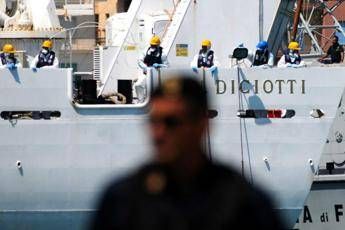 Pubblicato il: 13/07/2018 11:59
Italy's deputy prime minister, welfare and industry minister Luigi Maio on Friday said his Five-Star Movement "respects" head of state Sergio Mattarella's decision to intervene in a five-day standoff that had prevented 67 rescued migrants from reaching Italian soil.
"We respect President Mattarella's decision," Di Maio to Italian public broadcaster Rai's Agorà's chat show.
"The president's intervention was necessary to allow the migrants to disembark (at the Sicilian port of Trapani)," Di Maio stated.
"But we need faster procedures in such situations," Di Maio said.
He was referring to the standoff that arose when hardline interior minister Matteo Salvini refused to allow the migrants off the Italian coastguard ship Diciotto until a probe was completed into the allegedly violent behaviour of some.
"This is preserve of the magistrates but we must send a clear message to citizens, who expect justice to be done," Di Maio underlined.
"It is unacceptable to attack crew members," Di Maio said.
A Sudanese and a Ghanaian migrant allegedly hijacked the commercial Italian ship Vos Thalassa that picked up the 67 migrants off Libya on Sunday, threatening its captain and crew and forcing it to change direction as a Libyan coastguard boat approached.
The migrants were transferred to the Diciotto from the Vos Thalassa after Italian coastguard reportedly received a Mayday call from the vessel, which Salvini had barred from docking at a national port.
The Diciotto was allowed to dock in Trapani on Wednesday by transport minister Danilo Toninelli but the migrants were stuck on board the ship for a further two days until Italy's populist premier Giuseppe Conte ordered them to be allow off following a phonecall late on Thursday from Mattarella.
Salvini vowed on Facebook that any offenders among the migrants would be punished and expressed "regret and amazement" at Mattarella's move, ministry sources said on Thursday.
RIPRODUZIONE RISERVATA © Copyright Adnkronos.