Senate speaker lauds 'even-handed' and 'wise' Mattarella
POLITICS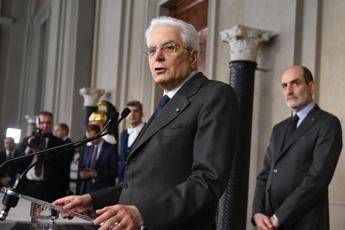 Sergio Mattarella during post-election talks with Italian political leaders at the Quirinale Palace on 12-13 April 2018.
Photo: Andkronos/Cristiano Camera
Pubblicato il: 23/07/2018 14:48
Senate speaker Maria Elisabetta Alberti Casellati on Monday paid tribute to Italy's president Sergio Mattarella, calling him "even-handed", "wise" and "an exceptional guarantor for every citizen" in a birthday message.
"I sent my most affectionate good wishes to the president of Italy, Sergio Mattarella," Alberti Casellati said in the message to mark his 77th birthday.
"His even-handedness, his wisdom, his deep-rooted respect for Italy's institutions, are an exceptional guarantor for every citizen," she said.
"Our constitution has a faithful interpretor that authentically expresses its values," Alberti Casellati added.
Mattarella won praise for his mediation between Italy's party leaders during talks that led to the formation of a populist government in June and ended months of political deadlock following the inconclusive national election on 4 March.
A native of Palermo, politician, lawyer and judge, Mattarella, entered politics after the assassination of his brother Piersanti Mattarella by the Sicilian mafia in 1980.
RIPRODUZIONE RISERVATA © Copyright Adnkronos.