Claims that Conte ready to quit 'totally unfounded'
POLITICS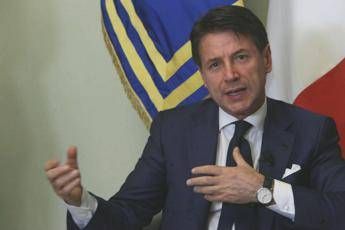 Pubblicato il: 30/08/2018 18:43
An Italian newspaper report that non-partisan premier Giuseppe Conte is on the point of resigning due an unrelenting power struggle between his two deputies - interior minister Matteo Salvini and welfare and industry minister Luigi Di Maio - are "totally unfounded", sources at the prime minister's office said on Thursday.
"The complaints attributed by La Repubblica to prime minister Giuseppe Conte at an alleged secret meeting with (top aide) Giancarlo Giorgetti are totally without foundation," the sources said.
A meeting between Conte and Giorgetti, who is permanent cabinet undersecretary, did take place late on Tuesday at Giorgetti's request "like many other routine meetings in these past few months," the sources stated.
At the meeting, Conte and Giorgetti discussed migration, ahead of talks on the thorny topic scheduled for Tuesday between Conte, Salvini, Di Maio, foreign minister Enzo Moavero Milanesi, defence minister Elizabetta Trenta and transport minister Danilo Toninelli, said the sources.
"The rest of the media report is pure fabrication," the sources claimed.
According to a report in La Repubblica on Thursday, Conte told Giorgetti at their meeting: "I've had an enough of this contest. Things have to change or that's it."
The struggle between Salvini - who leads the far-right League party - and Di Maio - who heads the anti-establishment Five-Star Movement - was "unsustainable", Conte reportedly said.
"This battle discredits the prime minister and could force him to resign along with the rest of the government," Repubblica quoted Conte as saying.
"I can't discover the government's immigration policies - which incidentally I do not support - from news agencies," Conte is said to have added. His comment followed talks Tuesday in Milan between Salvini and Hungary's far-right premier Viktor Orban on forming an anti-immigrant alliance ahead of European Parliament polls next year.
Conte, a law professor and political novice was tapped for premier following protracted negotiations earlier this year between the League and Five-Star on forming a coalition government after the inconclusive 4 April polls produced a hung parliament.
While the League and Five-Star both have a populist appeal, cracks have emerged in the three-month old coalition over several policy areas. Five-Star is less nationalist, anti-migrant and eurosceptic than the League and more environmentally minded while the League is an enthusiastic supporter of major infrastructure projects and "zero" immigration.
Salvini and Di Maio both lay claim to the premiership and Conte and Five-Star suspect Salvini will make a bid for the top job in the next few months, bolstered by surging support for the League and his growing popularity according to La Repubblica.
Five-Star is the biggest parliamentary party while the conservative alliance led by Salvini is the largest political bloc since the April elections.
RIPRODUZIONE RISERVATA © Copyright Adnkronos.