Salvini hails rescue of over 200 migrants by Libyan coastguard
POLITICS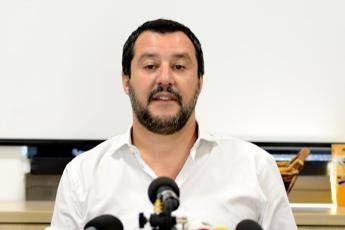 Pubblicato il: 24/09/2018 12:24
Italy's hardline interior minister Matteo Salvini on Monday lauded the Libyan coastguard's rescue of more than 200 migrants after Rome allegedly pressured Panama to revoke the flag of the Aquarius 2, the only NGO ship still operating off Libya.
"As Panama revoked the flag from the charity ship 'Aquarius 2' which once again has become a 'ghost ship', Libyan coastguard saved and returned to shore more than 200 immigrants," Salvini tweeted.
"Ports closed - no more human traffickers," the tweet added.
SOS Mediterranee, one of the charities that operates the Aquarius, said in a statement it was "shocked" to learn on Saturday its flag had been revoked. The official communique conveying the decision said Italian authorities had urged Panama to take "immediate action" against the Aquarius, the charity said - a claim denied by Salvini.
The 'Aquarius 2' currently has 58 rescued migrants on board and was at the centre of two stand-offs this summer involving Italy and Malta that left hundreds of migrants stranded at sea for days before other EU countries agreed to take them.
Unless the vessel can find a new flag to sail under, there will soon be no charity ships operating in the international search and rescue area off Libya.
The ship, which is operated by SOS Mediterranee and Doctors without Borders has just returned to the central Mediterranean area after what its operators described as 'an extended technical port call in Marseille'.
While the ship was in Marseille it was announced that it would be registered in Panama instead of Gibraltar and re-named 'Aquarius 2'.
Gibraltar's government had put Aquarius on notice of removal of its registration after it ignored orders to suspend operations as a rescue vessel and revert to its role as a survey ship, as registered.
Salvini in June closed Italian ports to international rescue vessels and has accused SOS Mediterranee and other charities of abetting people smuggers by acting like a Mediterranean "taxi service" for the migrants.
He vowed "zero migration" to Italy and has led a popular crackdown against immigration since his League party and the anti-establishment Five Star Movement took office in June.
RIPRODUZIONE RISERVATA © Copyright Adnkronos.