'Full support' from Conte for Moon's peace efforts with North Korea
POLITICS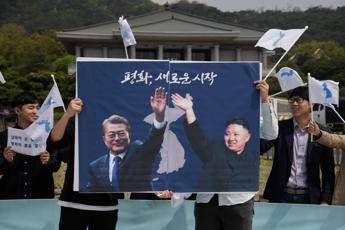 Pubblicato il: 17/10/2018 19:09
Italy's premier Giuseppe Conte on Wednesday expressed his "full support" for South Korean president Moon Jae-in's diplomatic push for peace with North Korea and the denuclearisation of the Korean Peninsula.
"Prime Minister Conte welcomed and expressed full support for the diplomatic initiatives undertaken by President Moon through the three inter-Korean Summits to advance inter-Korean relations and achieve complete denuclearization and work towards permanent peace in the Korean Peninsula," said a joint statement after talks in Rome between Conte and Moon.
During their meeting, Moon asked the Italian leader to support his country's efforts to peacefully denuclearize the Korean Peninsula. He explained details of his three summits with North Korean leader Kim Jong-un this year, in which Kim confirmed his decision to denuclearize.
"President Moon highly appreciated Italy's consistent support for and contribution to the process of peacefully resolving the North Korean nuclear issue and establishing peace on the Korean Peninsula," said the statement.
The two leaders shared the view that the denuclearization must be achieved in a complete, verifiable and irreversible manner," the statement added.
Moon's two-day visit to Italy is the first by a South Korean president since 2014 and comes amid a five-nation European tour.
RIPRODUZIONE RISERVATA © Copyright Adnkronos.