Libya and its neighbours reject regional migrant 'disembarkation platforms'
POLITICS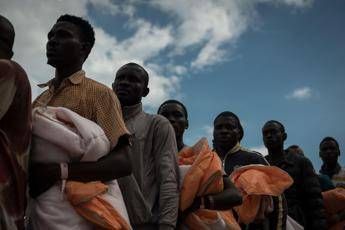 Pubblicato il: 19/10/2018 14:07
Libya and its North African neighbours oppose 'disembarkation' centres outside Europe aimed at stemming the influx of migrants arriving in Europe, foreign minister Mohamed al-Taher Siala told an Austrian daily on Friday.
"All north African countries reject this proposal - Tunisia, Algeria, Morocco and Libya, as well," Siala said in an interview with Die Presse during an official visit to Vienna.
Austria currently hold the rotating European Union presidency.
Under pressure from Italy, at a June summit, EU heads of state and government backed the idea of 'regional dismbarkation platforms' to assess the international protection claims of migrants trying to enter the bloc.
Under the EU plans, the 'disembarkation platforms' would be set up in consultation with the United Nations refugee agency UNHCR and the UN's International Organization for Migration.
Libya had reached an agreement with Chad, Niger and Sudan to bolster protection of its porous southern border, Siala said, suggesting EU states could give "logistical (aid): landcruisers, drones, helicopters and perhaps a few light weapons," to stop migrants crossing into Libya.
"That's actually where the European border begins, not the Mediterranean," Siala said.
Arab leaders are to meet in Egypt in late February for their first summit as part of efforts to forge a new European-African alliance and fight migrant smuggling.
Italy's former (centre-left) interior minister Marco Minniti grasped the importance of securing Libya's southern border. Last year he struck a deal with tribal chieftans from southern Libya to stop migrant smugglers and traffickers which led to a dramatic fall in Mediterranean migrant crossings as Libyan coastguard began intercepting boats.
The Libya-Italy route has become increasingly treacherous, however.
UNHCR says the death-rate along the Mediterranean route has risen sharply, and there are questions about the dangers intercepted migrants face back in Libya.
The UN has said any deal that sends migrants back to detention and mistreatment in Libya is inhumane and in breach of international and EU law.
RIPRODUZIONE RISERVATA © Copyright Adnkronos.