Haftar 'won't attend Palermo conference'
POLITICS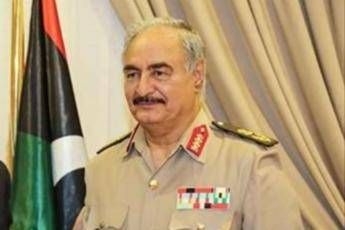 Pubblicato il: 06/11/2018 18:24
Powerful eastern military commander Khalifa Haftar has said he will not take part in an international conference on Libya taking place in Italy next week, diplomatic sources were quoted as telling a website close to Haftar on Tuesday.
Haftar's absence at the Palermo conference on 12-13 November means the event will be stillborn and also signals the failure of Italian government policy in Libya, the sources were cited as telling The Address website.
The Address report comes after Italian premier Giuseppe Conte's office said in a statement on Sunday that during a meeting with Conte last week Haftar had pledged to attend the Palermo conference, which the government hopes will be attended by the key Libyan and international players.
The government views Haftar's participation the Palermo conference as crucial to stabilising Libya - Italy's former colony. Haftar has the official title of Field Marshal and as head of the self-styled Libyan National Army portrays himself as a military leader capable of restoring order in the lawless, oil-rich state.
Last month, sources told The Address that it was unlikely Haftar would attend the conference due to its unclear goals and the lack of a specific agenda and list of planned participants.
RIPRODUZIONE RISERVATA © Copyright Adnkronos.