Italian lawmakers back protection for Asia Bibi
POLITICS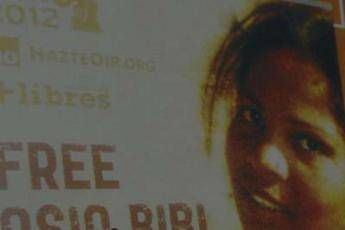 Pubblicato il: 08/11/2018 19:32
The foreign affairs committee of Italy's lower house of parliament on Thursday unanimously approved a resolution calling for Asia Bibi, a Pakistani Christian woman acquitted of blasphemy in her homeland, to be given international protection, as well as her family, the parliament said on Thursday.
"In backing this resolution, the Italian parliament has demonstrated its support for international efforts and to the serious and constructive commitment of Italy's government towards a positive outcome to these events," said committee chairwoman Marta Grande.
Bibi was released from jail in Multan, Pakistan on Thursday following her acquittal of blasphemy last week by the Supreme Court after eight years on death row.
Asia Bibi's husband Ashiq Masih had said the family is in danger from Islamists and pleaded for asylum. Several Western countries are understood to have held discussions with Asia Bibi's family about granting them asylum and Masih has reportedly asked the Italian government for help.
RIPRODUZIONE RISERVATA © Copyright Adnkronos.