Conte calls for constructive dialogue with EU over budget
POLITICS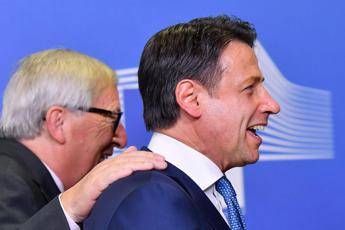 EU Commission President Jean-Claude Juncker (L) welcomes Italy's Prime Minister Giuseppe Conte as he arrives for a working dinner at the EU Headquarters in Brussels on November 24, 2018
Photo: AFP
Pubblicato il: 26/11/2018 13:37
Premier Giuseppe Conte on Monday urged "calm and constructive" dialogue with the European Union over Italy's budget, saying it would help to calm financial market jitters over the populist government's big-spending plans.
"Calm and constructive dialogue with Europe with certainly reassure financial markets and restore investor confidence," Conte said the sidelines of an energy conference in Milan.
Referring to the spread or yield between benchmark 10-year Italian government bonds and their German equivalent, Conte said: "There appear to be positive signs."
The interest rate on 10-year government bonds dropped 17 basis points to 3.24 percent, narrowing the yield premium over German bunds to 287 basis points by mid-morning in London on Monday after deputy premier Matteo Salvini told Adnkronos in an interview that government is looking to lower its percent budget deficit target that breaches a pledge by the previous government to cut spending.
"Clearly, we all need to do our part for the Italian economy to ensure investor confidence," Conte stated.
"Financial markets must feel sure that we are a government that is acting on a precise plan. The budget is well-structured and clearly thought out," said Conte.
Asked about the government's current 2.4 percent deficit target for 2019 in an interview with Adnkronos on Sunday, Salvini said: "I think nobody is fixated on this, if there is a budget which makes the country grow, it could be 2.2 percent or 2.6 percent."
Some analysts reacted cautiously to Salvini's remarks. While his rightwing League party may favour reducing the spending shortfall next year it is unclear if its coalition partner the grassroots Five-Star Movement would agree to such cuts which could marr its flagship policy of a basic income for Italy's poorest citizens, according to the analysts.
RIPRODUZIONE RISERVATA © Copyright Adnkronos.