No-deal Brexit 'undesirable' says Conte
POLITICS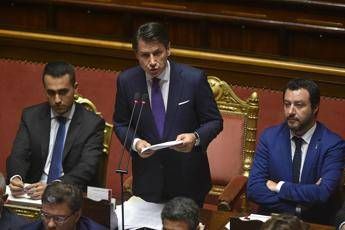 Pubblicato il: 11/12/2018 15:29
Britain's exit from the European Union with no formal agreement on the terms of its withdrawal or on future trade relations would be "undesirable" but is an outcome that Italy is preparing for, premier Giuseppe Conte said Tuesday.
"It needs to be underlined that Britain's withdrawal from the EU should happen in an orderly way in order to give clarity and certainty to so many citizens who are affected by this process including many Italians, also companies," Conte said in an address to MPs.
"We will keep working with our partners to prepare for such a scenario, which for us is undesirable - withdrawal without a deal," he said.
Britain's premier Theresa May was on Tuesday holding meetings with European leaders and EU officials in Brussels in a last-ditch bid to rescue her Brexit deal after postponing a key vote in the House of Commons which she needs to win for the deal to come into effect when the UK leaves the EU on 29 March.
RIPRODUZIONE RISERVATA © Copyright Adnkronos.