Salvini defends hardline immigration legislation
POLITICS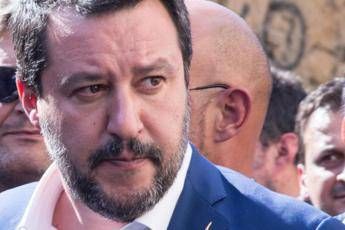 Pubblicato il: 04/01/2019 18:29
Anti-migrant interior minister Matteo Salvini on Friday defended the populist government's contested immigration law which toughens rules for asylum-seekers, saying a group of centre-left mayors who have vowed not to apply it are in the wrong.
"For me there is no controversy here. We have a state law, signed by Italy's president (Sergio Mattarella) which is being implemented by 99 percent of mayors," Salvini said during a visit to Chieti in eastern Italy.
"Incompetent mayors who don't know how to run Palermo, Naples, Florence and other cities are inventing non-existent issues," he went on.
"Legal and respectable immigrants and genuine refugees will have the utmost protection under this law, while those who want to cheat, the fake asylum-seekers, drug dealers and rapists will be deported."
The group of Italian mayors has threatened to block the security and immigration law's implementation in their cities and may seek a ruling from the Constitutional Court in a major challenge to the populist government.
The stringent new law passed in November prevents migrants from applying for residency permits while they are waiting for their asylum applications to be processed - meaning they have no access to services including health care, schools for their children and housing.
Palermo's mayor Leoluca Orlando, the mayor of Naples, Luigi De Magistris, and Florence's mayor Dario Nardelli are among some 10 mayors who are refusing to apply the legislation which they say flouts migrants' human rights and the Italian constitution.
When Mattarella signed the government decree which the parliament then voted into law, he wrote an accompanying letter to premier Giuseppe Conte stating that "Constitutional and international State obligations" remained.
RIPRODUZIONE RISERVATA © Copyright Adnkronos.