Italy 'blocked' joint EU declaration on Venezuela
POLITICS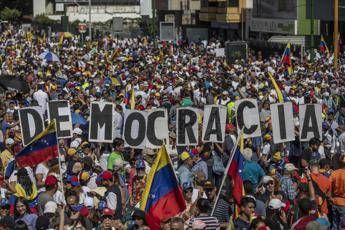 Demonstrators hold signs spelling during a pro-opposition protest in Caracas, Venezuela, on Saturday. Bloomberg photo by Alejandro Cegarra
Pubblicato il: 04/02/2019 19:00
Italy blocked the approval of a declaration by the 28 European Union member states on crisis-hit Venezuela in support of opposition leader Juan Guidao, several diplomatic sources in Brussels told Andkronos on Monday.
The declaration implicity recognising Guidao as Venezuel' interim president, was indefinitely postponed at an informal meeting of EU foreign ministers in Bucharest on Thursday due to Italy's opposition, the sources said.
So far more than half of the EU states have declared recognition of Guaido as interim leader, including the UK, France, Germany and Spain.
Italy's populist coalition government is split and not likely to back any coordinated plan because the leaders of one half of the ruling coalition, the Five-Star Movement, have declared that it's not "for the EU to tell another nation what to do".
Venezuela's leftist president Nicolas Maduro defiantly rejected a Sunday deadline set by several EU states to call fresh elections and denounced Guaido's move as a coup.
Guiado, who leads the opposition-held National Assembly, declared himself interim president on 23 January after Maduro was sworn in for a second term earlier last month.
US President Donald Trump said on Sunday that military intervention in Venezuela could be "an option".
Venezuela's May contested 2018 presidential elections were marred by an opposition boycott and allegations of vote-rigging which triggered large protests in Venezuela amid a protracted economic crisis.
RIPRODUZIONE RISERVATA © Copyright Adnkronos.