Di Maio meets Yellow Vest leaders in Paris
POLITICS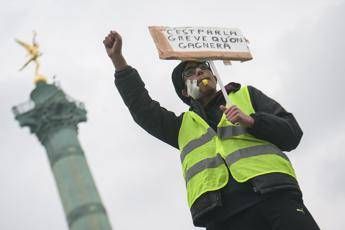 Pubblicato il: 05/02/2019 19:47
Luigi Di Maio, Italy's deputy premier, industry and welfare minister and leader of the anti-establishment 5 Star Movement on Tuesday met the leaders of France's Yellow Vest protest movement on the outskirts of Paris, together with influential 5 Star second-in-command Alessandro Di Battista.
A 5 Star statement said Di Maio and Di Battista met two of the Yellow Vest movement's most prominent figures, Ingrid Levavasseur and Christophe Chalencon, hinting at a possible alliance between the 5 Star Movement and a Yellow Jacket list in the May European elections.
Di Maio - whose party is looking for European allies and shares with the Yellow Vests a dislike of France's President Emmanuel Macron - led a delegation that included several 5 Star members of the European Parliament.
"[There was an] Atmosphere of great enthusiasm. [There will be] A new meeting in the coming weeks in Rome," the 5 Star statement said.
The Yellow Vest list announced last month with ten names is led by Levavasseur, a 31-year-old auxiliary nurse, but hopes to have total of 79 candidates. The list also includes an accountant, a forklift driver and a housewife.
The Yellow Vest movement began in response to a hike in fuel taxes but has since morphed into a bigger - largely anti-Macron - protest against inequality.
RIPRODUZIONE RISERVATA © Copyright Adnkronos.